Back on Track Velodrome
A big welcome back to the boards of Manchester's Velodrome!
We can't wait to see the return of riders to our track, ensuring everyone stays safe and confident in our Covid-19 secure facility.
SEssions
Here's a list of our new session types for now: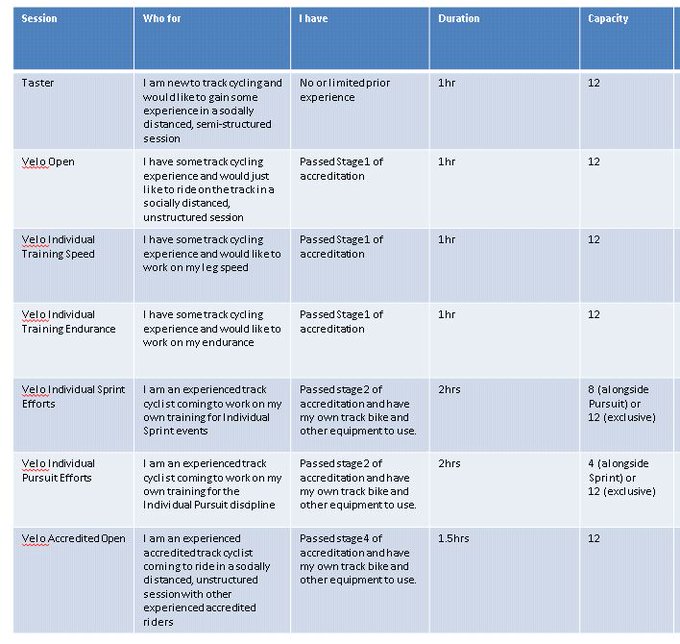 Things to know before arriving:
Off Track etiquette:
All sessions must be pre-booked online 

(

a guide is available here

)

Customers can access the arena no earlier than 30 minutes before their session and we encourage you to bring all your equimpent into the arena in a single journey.

A Concierge will be in place to meet and greet - you must check in on arrival 

There will be very limited access to changing facilities, with a maximum of 2 customers permitted to access these areas at any one time, so we ask that everyone arrives 'Ready to Ride'.

You will be directed to one half of the riders D (pictured below) to sit with the same riders as your session. You must sit within one of the marked zones with a numbered chair, and not encroach on others zones so as to maintain social distancing.
Rollers can be used for warmup, within the marked Zone. If support is needed for balance, please use a zone around the perimeter of the riders D area allocated to you. 

Rider activity briefings will take place with riders seated, so as to avoid congestion on the ramp.

As per current government guidance for this area, customers are requested to observe the social distancing rules for indoor venues as detailed on the uk government website here.
One way systems are in place around the building including for accessing and leaving the track for activities and we ask that these are adhered to at all times. Additional carpet has been laid on the ramp to facilitate this.
Hand sanitising stations and disinfectant sprays are readily available for customer to use for hand cleansing and to wipe down equipment. Customers are requested to wipe down the chair and rail used in their marked zone at the end of their sessions.
Masks are mandatory in the foyer and corridors, optional in the Riders D, and discouraged during participation in session activities.

You must be self sufficient and use only your own equipment. Please do not lend your equipment to others, this includes but is not limited to Track Pumps and Tools.

Toilets are available in the changing rooms on the corridor. We ask that no more than 2 people at one time enter these areas.

The Cafe remains closed until further notice so please bring your own refreshments. A water fountain is available for cycling bottle refils only and should only be used for such purpose. Any botttles which require you to drink from the neck (the filling point) must not be refilled, only sports cap bottles.

D

uring this time there will be no access to the arena to non riders and all parents/spectators will be asked to use the stands, where seating is socially distanced via system of ticks and crosses to mark where it is permitted to sit.
On TRack Etiquette:
After the activity briefing in the riders D, customers will be required to mount their bike at the corresponding numbered station on the handrail to the left of the ramp.
When riding all activities, customers must remain aware of and maintain the mandated 5 metre + social distancing that is in place on track to ensure no group riding takes place.
When leaving the track following an activities completion customers will be required to stop within their numbered zone on the back straight rail on the approach towards the ramp.
All bikes are to be removed from the track area between activities and kept with customers in their marked zones.
Please no spitting or snotting whilst on track, leave the track and use a tissue in your zone.
After Sessions
Once sessions are concluded, we ask that customers use hygeine spray as mentioned above to help sanitise the marked zones, then leave the arena promptly so our staff can then check and reset the seating zones for later sessions.